Moderator at Super Return Africa in Accra December 2014 entitled 'Investing in East Africa'
Financial Services panellist at East Africa Venture Capital Conference in May 2015.
Key note speaker at the Women Entrepreneur Investment Conference in Zurich October 2015 hosted by Quantum Global.
Key note speaker at opening plenary of Sankalp Africa Summit Nairobi February 2016 for 'Is too much soft money encouraging a culture of mediocrity in Africa?
Panelist at side event 'From Financial Independence to Financial Inclusion 'at the World Economic Forum for Africa in Kigali May 2016.
Panelist at 2nd session of the United Nations Environment Assembly on 'Business Dialogue for Environmental Sustainability 'Nairobi May 2016.
Panelist at CNN African Journalist of the Year Awards side event on 'Women in media- does having a seat on the table equate to a voice?' Johannesburg October 2016.
Speaker at Women Advancing Africa conference hosted by the Graça Machel Trust in Dar es Salaam August 2017.
Moderator of Gender Lens Investing Session at Sankalp Africa conference February 2017.
Speaker at Africa Diaspora Investment Forum in Silicon Valley Jan 2018
Panelist at Timeless Women Africa conference 'How I Started My Business 'in Nairobi Feb 2018.
Panelist at Sankalp Africa conference 'Fundraising challenges for new funds' in Nairobi March 2018.
Moderator for Africa at Inaugural Gender Smart Investing Summit London in Nov 2018 https://www.gendersmartinvesting.com/lunch-regional-sub-saharan-africa
Panelist at Sankalp Africa conference 'Turning Intentions into Action: How to Boldly Implement Gender Lens Investing' Feb, 2019 (https://africasummit2019.sankalpforum.com/agenda/speakers/413615)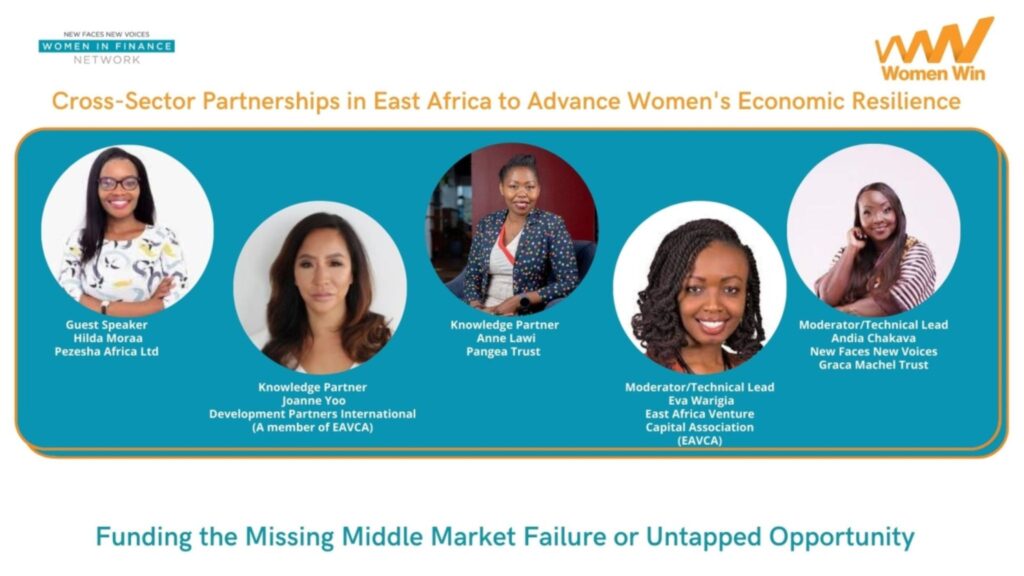 Women Win/ NFNV-Kenya
Funding the missing middle-market failure or
untapped opportunity?
Date: 23rd September 2021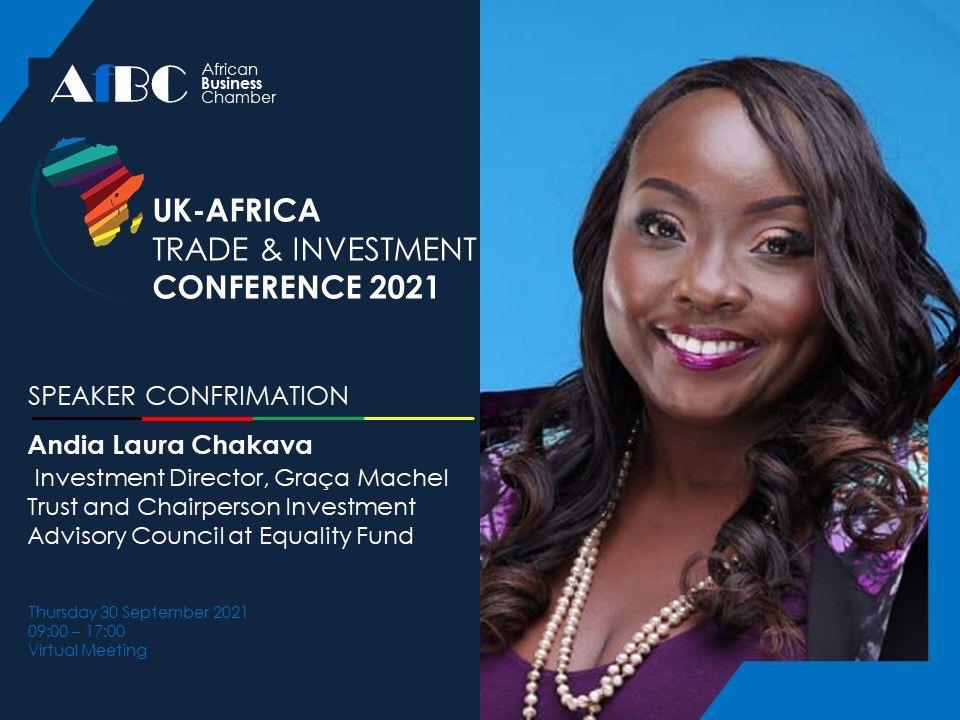 African Business Chamber
UK –Africa trade & Investment conference 2021
Date: 30th September 2021
Xoco Unlimited
Future of impact summit speaking engagement on
practitioner Insights on Gender Lens Investing
Date: 7 th October 2021
Sankalp Global
The care economy: Role of social finance in
promoting gender equity
Date: 13th October 2021